'The future is created by those with the imagination to dream it, and the resolve to achieve it.' – Tim Fargo 
Entrepreneurship is not as glamourous as it looks on the internet. We all wish it was just about making money, posting inspirational quotes and wearing an expensive suit. A start-up is a venture that needs a lot of work and investment. It requires so called entrepreneurs to roll up their sleeves and see to the vision of their business.
An entrepreneur is someone strong-willed and wants to build a legacy through business. This isn't just someone who has a smart business idea. It takes a lot more to see to the execution of a business. It is someone who will persist during hard times and show perseverance for their passion despite what they encounter.
Entrepreneurship is for the brave and those who recognise that being a vision-bearer of your business comes with a hefty price. All entrepreneurs that are on top of the business market, have a similar way of thinking and share the same values that have made them successful.
Defining Qualities of Successful Entrepreneurs
They have Integrity and Humility 
Integrity is an important part of having a successful business. Having integrity builds your reputation in the industry and builds the trust you have with clients and potential investors. The credit that you get by being trusted adds value to your business and this will validate your business.
Humility opens up your willingness to learn more and grow in the industry. To be a great entrepreneur you have to be strong but humble, this will lead you to greatness.
They are Confident in their business 
As an entrepreneur, you have to be hands-on with promoting and sharing your business with people. You should understand the business more than anyone and be enthusiastic to share it. When you drive team spirit you ignite people to work effectively towards your vision and goals.
They are self-disciplined 
Being self-disciplined is a principle that ensures that you achieve what you set out to accomplish. Discipline enforces the responsibility to meet targets and objectives of your business. Sometimes being disciplined requires sacrifice and isn't enjoyable but in the end it produces great results.
They have passion 
Being a passionate entrepreneur is what will give your business the drive it needs to succeed. This will demand a lot of commitment and dedication that comes easily with being passionate. Your love and passion will always fuel the desire you have to go the extra mile.
Have a progressive business idea/plan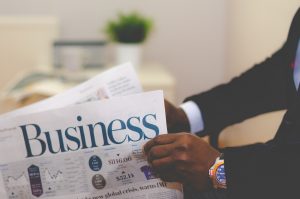 To survive in the industry, your business idea must be resilient even through the years. This means you need to know how to cultivate your existing customers purpose and also attract your potential customer. You need to have ideas to expand your main offering which is a business opportunity for growth.
This will require you to study the business market and understand customer values.
They strategise for success 
They don't just have a plan to succeed, they also have a strategy in place to achieve success. This is a step by step approach that will see to the fulfilment of goals. Each goal that is met contributes towards the growth of the business's success. Another way to strategise your success is to empower yourself with more skills. When you are equipped through an educational business skills course, you are mentally equipped to achieve more.
They delegate responsibility 
The great thing about being a business owner, is that you can choose who will help you fulfil your vision. And this also means that you can bring in experts in different fields that your business needs. As a business owner, you are not expected to be an expert at everything, but you can use the expertise of employees and consultants to edify your business.
They are authentic 
It is vital to explore the market you are in, to be aware of trends and adjust your business to increase expansion. However it is important not to try and copy other business strategies that don't relate to your own. It's good to be aware of what competitors are offering, to up your game, but it's just as important to be original and stay true to your brand's vision.
They have clear focus 
It is imperative to have a main offering that your business specialises in, than other entities who may come with this. However it is not advisable to become covetous and offer services or products that your will cause your business to under-deliver. This will lead to poor reputation for your brand.
They have mentors 
Having a mentor will help you weather tough business times. The experience that a mentor has gained is something you can learn from and not repeat mistakes. Their guidance will help you be more mindful of what to expect of the industry. The perks of finding the right business mentor is that they will share valuable information and connections that will amplify your success. They are also there to advise you on major decisions and give you the reassurance you need.
These are fundamental foundations of entrepreneurship that will fuel your success in the business world.
About the Author: Khanyie Dlamini
Content Creator at Educor Holdings
As a writer in the education sector I am passionate about nurturing people in their careers, wellness and personal growth. I focus on a variety of illuminating topics that are helpful to people's growth and success. I hope to inspire people to feel motivated to live up to their full potential and know they can have an optimistic and prosperous life. My intention is to contribute to an empowered nation that makes great choices and positive change.
Personally I enjoy the world of fashion and keeping up with the trends. I have great interest in digital trends and the impact of social media in today's world. I enjoy learning from other creative people. I value having purposeful relationships with people who have great visions that align with my own.