"No longer is technology an option or an afterthought. Today, it is mission-critical."- Richard Woods
Education has evolved through technology modernisation that creates competency, engagement, and convenience. Technology trends are being incorporated in educational methods that stimulate learning patterns.
Impacts of developing technology trends are positive economic and societal benefits as digitised learning methods and improved student adaptability.  Through visuals, videos, tech and modern learning spaces, and other virtual intelligence developments learning has transitioned and uses more computer based approaches.
Technology development tools are used to design content and develop learning models. Through these methods, Learning is becoming more personalised and systems are being tailored for students. Education is seeing the increase of virtual delivery coming into presentations and enhancing training systems. The technology in learning is used to shape a new era of technology driven millennials who are able to function in technology based jobs.
Tech incorporated Learning spaces
Because of the transition from book-based learning to the use of computerised devices, learning institutions have evaluated and shifted the methods of education. Millennials are known to be easily drawn to visuals, videos and other tech gadgets which are how they understand the world. The technology used in learning is a strategy to engage digitally focuses audiences in a way they understand better.
Learning spaces have transitioned to more open space for face-to-face, with computer integrated learning and the availability of videos, apps, online information, digital study guides makes learning possible for distance learning students. The environment of modern learning spaces inspire creativity and solves many education challenges.
BYOD: Bring your own device
With the ease of use of Wi-Fi in most educational institutions, we are seeing the use of devices being prominent in the learning field. Almost every student today carries a device and has access to the internet. This is has become the preferred method of learning in most institutes.
The availability of educational apps and tools has formed a new and modern way for students to learn. From mobiles to other tech devices, the methods of student engagement and access to information has become easy.
Crowdsourcing in education
Crowdsourcing is vital in education today to extract a wide range of educational information which is available online. Crowdsourcing is a collective group of people and experts sharing allows ideas, skills, and practice for a common topic or to solve a problem. Crowd sourcing has great benefits in developing the best practices in education for learning institutions and students.
Crowdsourcing is critical for distance learning which accommodates part time learners as well as offering solutions to a wide range of people in complex data. This model that allows innovation through education and offer quality learning.
Student become teachers
"Teaching in the Internet age means we must teach tomorrow's skills today." – Jennifer Fleming
Modern day education systems allow students to give useful input on how teachers can best deliver in teaching. Education that is student centered is likely to be more effective as it solves student problems and creates a learner friendly environment.
There's change in leadership from teachers where they involve learners more and bring them into the planning process to build effective learning. This can be demonstrated by students deciding on what content they want and what would be relevant. This makes students feel involved in the preparation process, which makes understanding easier.
Growth of Online Education
The availability of online education courses and qualifications by accredited and non-accredited institutions will continue to rise. A greater number of people prefer distance learning as this is practical and allows them to continue with their daytime jobs and agendas. Online courses are a convenient and preferred way of learning that is being used now more than ever.
The idea of accessing information and learning through technology suites the majority of modern people. The empowering aspect of online education is that they increase employment and advances many careers. Statistics reveal the growth and impact of online education proving that online education has become superior to face-to-face learning.
Virtual Reality
Virtual reality which is best described is artificial computer-generated stimulation, has come into the educational space to improve learning methods. VR tools and Apps are used as tools of intelligence education that immerse the student in the lesson through hearing and visuals. Through this tool invention of creative lessons is made possible by computer generated learning.
VR learning tools enhance and create real learning experiences in fields such as science, biology, geology, literacy, history and much more. These techniques are used in most of these subjects to recreate models and sites to demonstrate in presentations which are innovative and developed learning. VR tools used in classrooms create many educational possibilities and increases student engagement.
Augmented Reality
There is also the use of augmented reality apps and tools in education developments. AR technology enhances computer generated apps and devices to become more real through virtual elements. There are useful reasons why augmented reality is used in education.
In augmented reality education tools and apps, audience participation becomes possible through portable learning materials. Augmented reality permits features such as photo scanning and many other functions that enhance the learning experience.
The prospects of Technology in education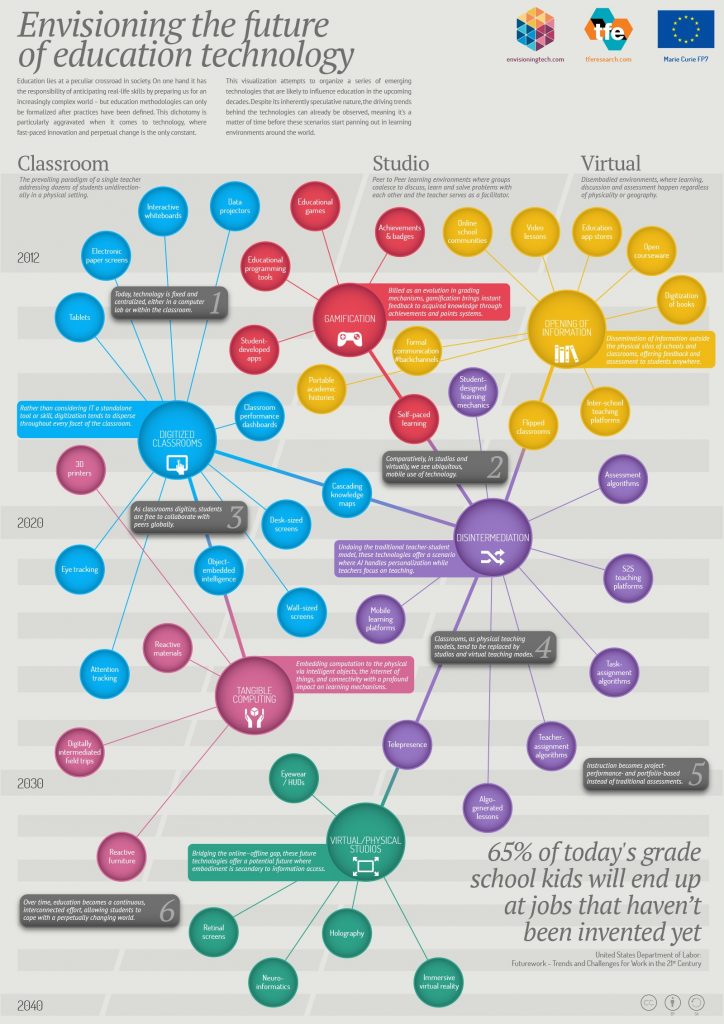 Prospects of tech and education development show that the use of technology will continue to upsurge. This means learning methods could completely become entirely tech driven. Education patterns and techniques are predicted to implement even more technology trends to enhance modern training.
More people will be keen to use devices, gadgets and follow tech trends that are supported in education methods. The internet and technology driven generation will continue to reform traditional learning systems to adaptable practices.
About the Author: Khanyie Dlamini
Content Creator at Educor Holdings
As a writer in the education sector I am passionate about nurturing people in their careers, wellness and personal growth. I focus on a variety of illuminating topics that are helpful to people's growth and success. I hope to inspire people to feel motivated to live up to their full potential and know they can have an optimistic and prosperous life. My intention is to contribute to an empowered nation that makes great choices and positive change.
Personally I enjoy the world of fashion and keeping up with the trends. I have great interest in digital trends and the impact of social media in today's world. I enjoy learning from other creative people. I value having purposeful relationships with people who have great visions that align with my own.